LCD Display 1602a Dot Matrix LCD Display Module

Lcd Display 1602a 16X2 Character LCD Display Module for Arduino Blue Color 1602 LCD is 16 character by 2 line display has a very clear and high contrast black text upon a green background/backlight. It also includes a serial I2C/IIC adaptor board pre-soldered to the back of the LCD. A Lcd Display 1602a with white text on a vivid blue backlit LCD. This is a Lcd Display 1602a screen with I2C interface. It is able to display 16×2 characters on 2 lines, white characters on blue background.
LCD Display 1602a Dot Matrix LCD Display Module is very basic module and very commonly uses in various devices and circuits. LCD Display 1602a means it can display 16 characters per line and there are 2 such lines. In this LCD Display 1602a each character displays in 5×7 pixel matrix. LCD Display 1602a intelligent alphanumeric dot matrix display is capable of displaying 224 different characters and symbols. This LCD has two registers, namely, Command and Data.
These LCDs are ideal for displaying text/characters only, hence the name 'Character LCD'. The display has an LED backlight and can display 32 ASCII characters in two rows with 16 characters on each row. This is an Alphanumeric LCD display module, which means you  can display alphabets and numbers
Although they display only text, they do come in many sizes and colors: for example, 16X1, 16X4, 20X4, with white text on blue background, with black text on green and many more.
I2C Module has a inbuilt PCF8574 I2C chip that converts I2C serial data to parallel data for the LCD display. These modules currently supplies with a default I2C address of either 0x27 or 0x3F. To determine which version you have check the black I2C adaptor board on the underside of the module.
Specification
Display: 16 characters per row, 2 rows
Pins: VCC GND SDA SCL
Voltage: 5v
Current: 80mA typ. with backlight on
Modes: I2C (Addressible)
Custom characters: up to 8 custom characters easily defined
Backlight: Jumper/software control
LCD Display 1602a Features
Operating Voltage of the LCD Display 1602a  is 4.7V to 5.3V
Current consumption is 1mA without backlight
This is an Alphanumeric LCD display module, which means you  can display alphabets and numbers
Consists of two rows and each row can print 16 characters.
Each character builds by a 5×8 pixel box
Can work on both 8-bit and 4-bit mode. "we will be using this LCD  in 4-bit mode".
LCD Display 1602a LCD Pinout
GND

 should be connected to the ground of Arduino.

VCC

 is the power supply for the LCD which we connect the 5 volts pin on the Arduino.

Vo (LCD Contrast)

 controls the contrast and brightness of the LCD. Using a simple voltage divider with a potentiometer, we can make fine adjustments to the contrast.

RS (Register Select)

pin lets the Arduino tell the LCD whether it is sending commands or the data. Basically this pin uses to differentiate commands from the data.
For example, when RS pin sets to LOW, then we are sending commands to the LCD (like set the cursor to a specific location, clear the display, scroll the display to the right and so on). And when RS pin sets on HIGH we are sending data/characters to the LCD.

R/W (Read/Write)

 pin on the LCD is to control whether or not you're reading data from the LCD or writing data to the LCD. Since we're just using this LCD as an OUTPUT device, we're going to tie this pin LOW. This forces it into the WRITE mode.

E (Enable)

 pin is used to enable the display. Meaning, when this pin is set to LOW, the LCD does not care what is happening with R/W, RS, and the data bus lines; when this pin is set to HIGH, the LCD is processing the incoming data.

D0-D7 (Data Bus)

 are the pins that carries the 8 bit data we send to the display. For example, if we want to see the uppercase 'A' character on the display we will set these pins to 0100 0001(according to the ASCII table) to the LCD.

A-K (Anode & Cathode)

 pins are used to control the backlight of the LCD.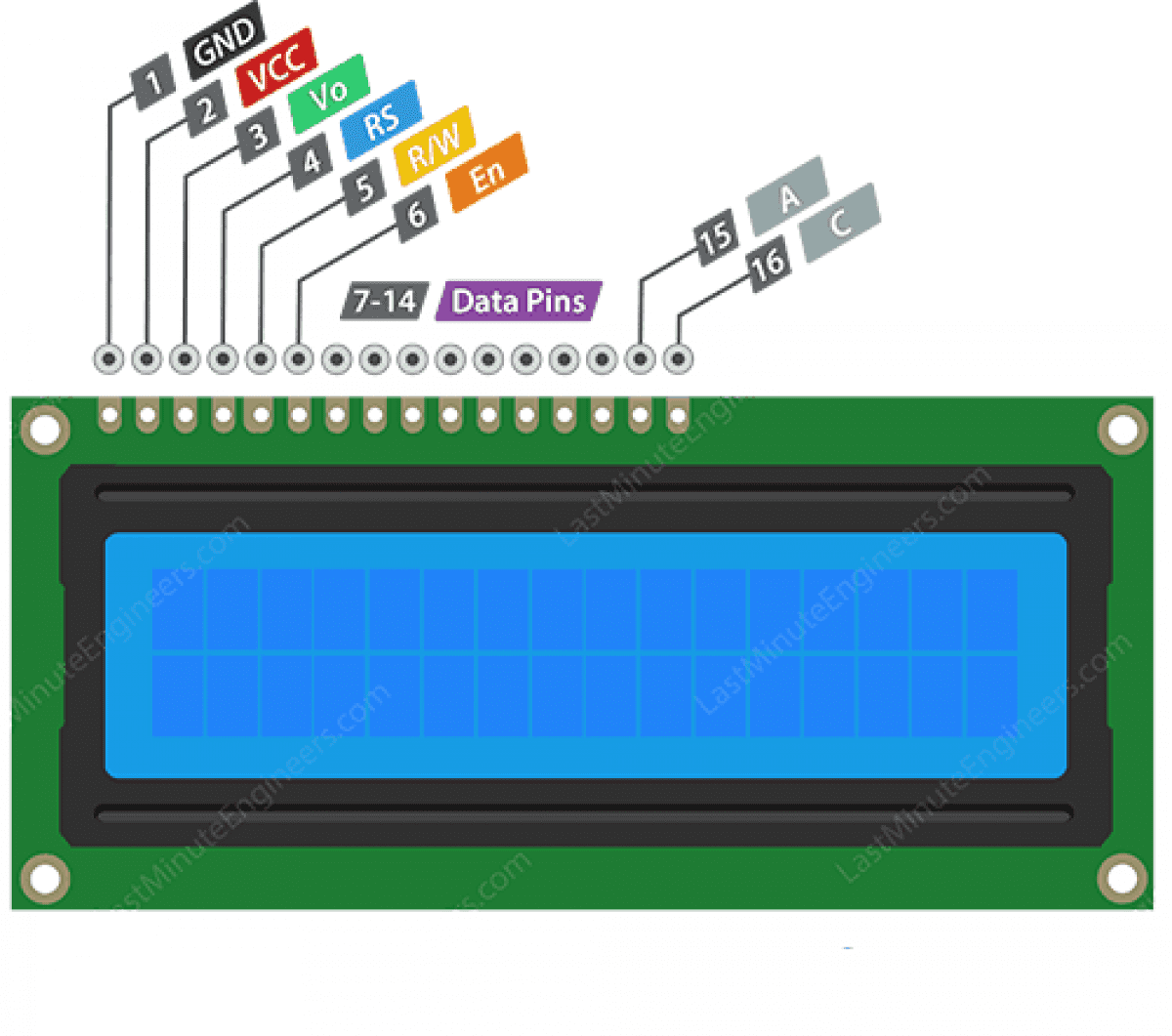 LCD Display 1602a Arduino Pinout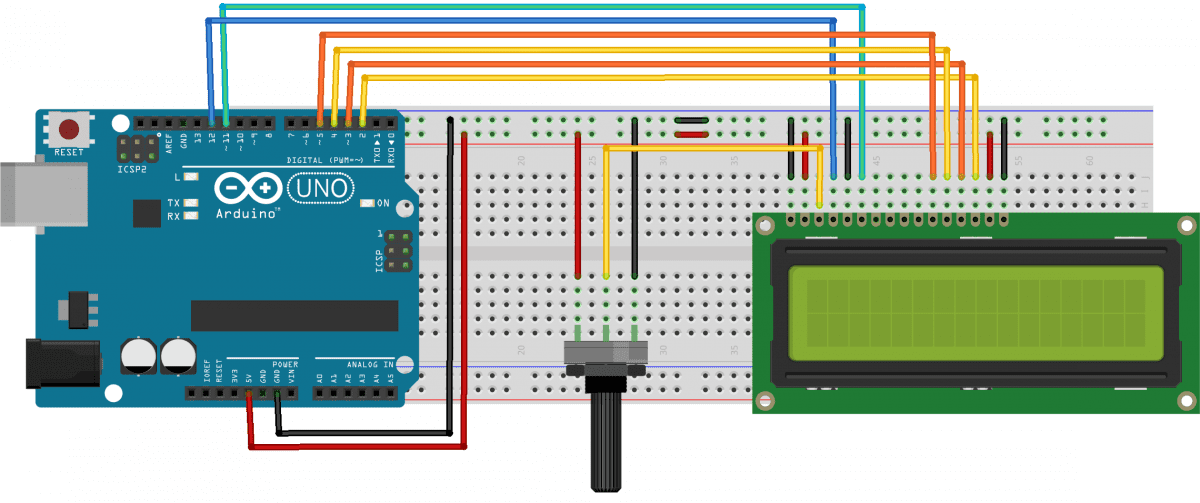 Package:- 
1 x LCD Display 1602a Dot Matrix LCD Display Module
Datasheet:-
Related Products at majju.pk
Vendor Information
Store Name:

JK HALLROAD

Vendor:

JK HALLROAD
Address: HALL ROAD
LAHORE
Punjab
54000

5.00 rating from 1 review

LCD Display 1602a Dot Matrix LCD Display Module