Arduino Micro R3 ATmega32U4 in Pakistan
Arduino Micro R3 ATmega32U4 comes with a built-in USB which makes the Micro recognizable as a mouse or keyboard.
Arduino Micro ATmega32U4 is a microcontroller board based on the ATmega32U4 (datasheet), developed in conjunction with Adafruit.
It has 20 digital input/output pins (of which 7 can be used as PWM outputs and 12 as analog inputs), a 16 MHz crystal oscillator, a micro USB connection, an ICSP header, and a reset button. It contains everything needed to support the microcontroller.
simply connect it to a computer with a micro USB cable to get started. It has a form factor that enables it to be easily placed on a breadboard.
The Micro board is similar to the Arduino Leonardo in that the ATmega32U4 has built-in USB communication, eliminating the need for a secondary processor. This allows the Micro to appear to a connected computer as a mouse and keyboard, in addition to a virtual (CDC) serial / COM port.
Related Boards
If you are looking at upgrading from previous Arduino designs, or if you are just interested in boards with similar functionality, at Arduino you can find:
Getting Started with Arduino Micro R3 ATmega32U4
Find inspiration for your projects from our tutorial platform Project Hub.
You can find in the Getting started with the Arduino Micro section all the information you need to configure your board, use the Arduino Software (IDE), and start tinkering with coding and electronics.
From the Tutorials section you can find examples from libraries and built-in sketches as well other useful information to expand your knowledge of the Arduino hardware and software.
Arduino Micro R3 ATmega32U4 Need Help?
Check the Arduino Forum for questions about the Arduino Language, or how to make your own Projects with Arduino. Need any help with your board please get in touch with the official Arduino User Support as explained in our Contact Us page.
| | |
| --- | --- |
| Microcontroller | ATmega32U4 |
| Operating Voltage | 5V |
| Input Voltage (recommended) | 7-9V |
| Input Voltage (limit) | 6-9V |
| Digital I/O Pins | 20 |
| PWM Channels | 7 |
| Analog Input Channels | 12 |
| DC Current per I/O Pin | 20 mA |
| DC Current for 3.3V Pin | 50 mA |
| Flash Memory | 32 KB (ATmega32U4) of which 4 KB used by bootloader |
| SRAM | 2.5 KB (ATmega32U4) |
| EEPROM | 1 KB (ATmega32U4) |
| Clock Speed | 16 MHz |
| LED_BUILTIN | 13 |
| Length | 48 mm |
| Width | 18 mm |
| Weight | 13 g |
Arduino Micro R3 ATmega32U4 Pinout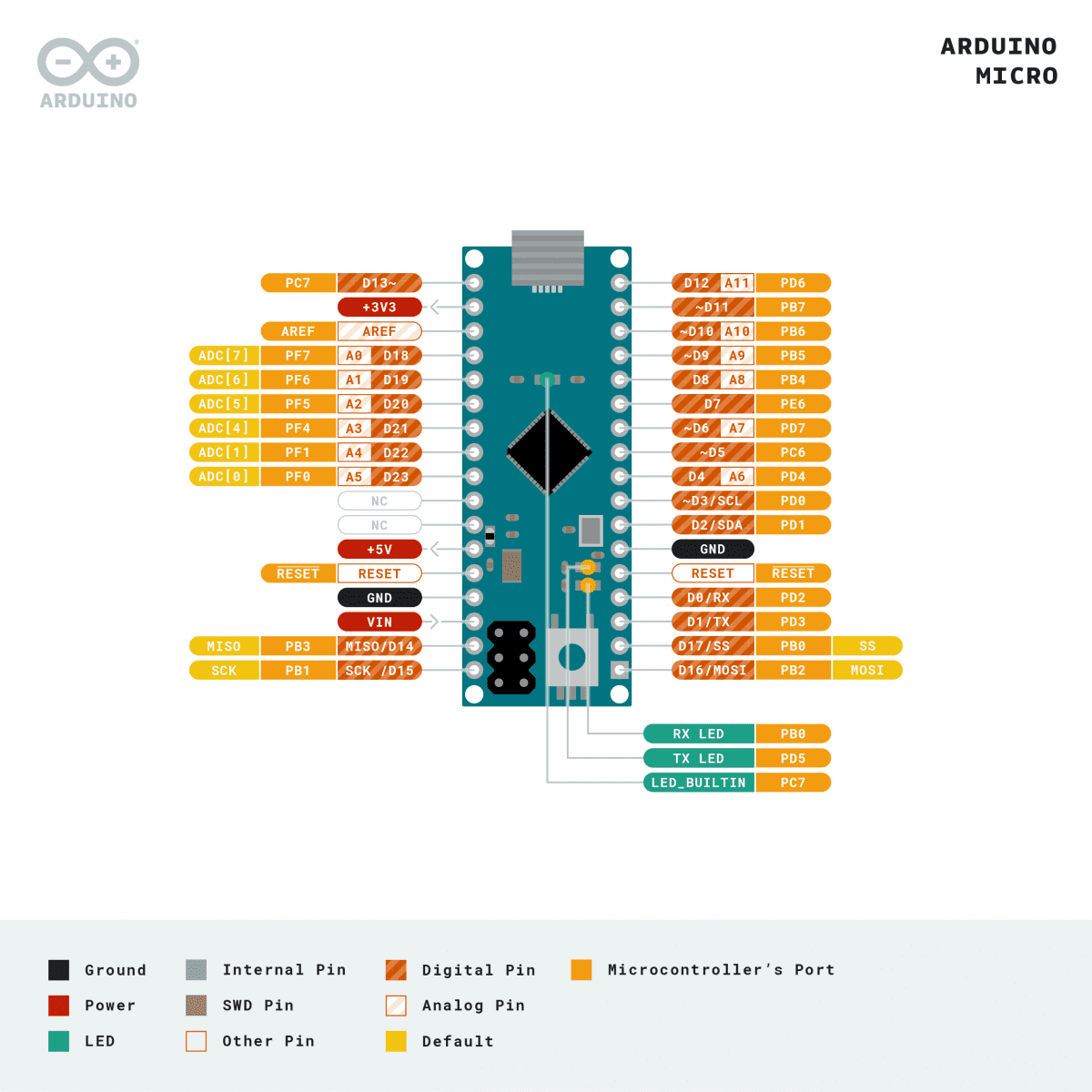 Memory
The Arduino Micro ATmega32U4 has 32 KB (with 4 KB used for the bootloader). It also has 2.5 KB of SRAM and 1 KB of EEPROM (which can be read and written with the EEPROM library).
Power
The Arduino Micro ATmega32U4 can be powered via the micro USB connection or with an external power supply. The power source is selected automatically.
External (non-USB) power can come either from a DC power supply or battery. Leads from a battery or DC power supply can be connected to the Gnd and Vin pins.
The board can operate on an external supply of 6 to 20 volts. If supplied with less than 7V, however, the 5V pin may supply less than five volts and the board may become unstable. If using more than 12V, the voltage regulator may overheat and damage the board. The recommended range is 7 to 12 volts.
Package:-
1 x Arduino Micro R3 ATmega32U4
Related Products at

majju.pk
Vendor Information
Store Name:

sherjaan

Vendor:

sherjaan
Address:

5.00 rating from 3 reviews

Arduino Micro R3 ATmega32U4 in Pakistan