IRF730 N-CHANNEL MOSFET, 400V/5.5A

The metal-oxide-semiconductor field-effect transistor (MOSFET, MOS-FET, or MOS FET) is a type of field-effect transistor (FET), most commonly fabricated by the controlled oxidation of silicon. It has an insulated gate, whose voltage determines the conductivity of the device. This ability to change conductivity with the amount of applied voltage can be used for amplifying or switching electronic signals
IRF730 is an N channel MOSFET available in TO-220 and TO-220AB packages. This MOSFET is capable of driving load of upto 5.5A with the load voltage of 400V and the maximum power dissipation of the transistor is 75 Watts, moreover the maximum pulse drain current of this transistor is 22A.
This MOSFET is basically designed for applications which requires high speed switching, therefore it can be used in uninterruptible power supplies, other than that it can also be used in DC to DC converters, telecommunication related applications, lighting related applications and in many industrial applications.
IRF730 transistor requires low gate drive power due to which it can be directly operated from the output of chips and electronic platforms.
Other than that IRF730 can also be used for audio amplification purposes and can be used to build high power audio amplifiers.
IRF730 Features / Technical Specifications
Package Type: TO-220AB And TO-220
Transistor Type: N Channel
Max Voltage Applied From Drain to Source: 400V
Max Gate to Source Voltage Should Be: ±20V
Maximum Continues Drain Current is : 5.5A
Max Pulsed Drain Current is: 22A
Max Power Dissipation is: 75W
Minimum Voltage Required to Conduct: 2V to 4V
Max Storage & Operating temperature Should Be: -55 to +150 Centigrade
IRF730 Applications
Telecommunication applications
High voltage applications
Relay driving applications
Battery Chargers and BMS Circuits
Uninterrupted power supplies
Motor Drivers
Where We Can Use it & How to Use
IRF730 can be selected for high voltage applications of upto 400V. Other than that this transistor can be used in variety of general purpose applications. The user or designer can also use it at the output of ICs and microcontrollers to drive loads of upto 5.5A and also at the output of electronic platforms such as arduino and raspberry pi.
Replacement and Equivalent
IRFS731, IRF730FI, IRF730S, IRFI730G, BUZ60, IRFS730, IRF330, IRF331, STP7NA40, BUK452-60A, MTP3055E, IRF730FI, STP7NA40, FI, IRF730S, STB7NA4, STP7NA40FI, IRFS731, STP7NA40, STP7NA40FI, 2SK2679, BUK445-400B, BUK455-400B, MTP5N40E
How to Safely Long Run in a Circuit
To get better and long term performance from an electronic components the designer or user must not use it at its maximum capability or ratings, therefore we suggest to use a component atleast 20% below from its maximum ratings.
Hence same applies to IRF730, the maximum drain to source voltage of the transistor is 400V therefore do not drive load of more than 320V, the maximum continuous current of the transistor is 5.5A therefore do not drive load of more than 4.4A.
The maximum pulsed drian current is 22A so do not drive load of more than 17.6A and always operate and store the transistor in temperature above -55 degree centigrade and below +150 degree centigrade.
IRF730 Pinout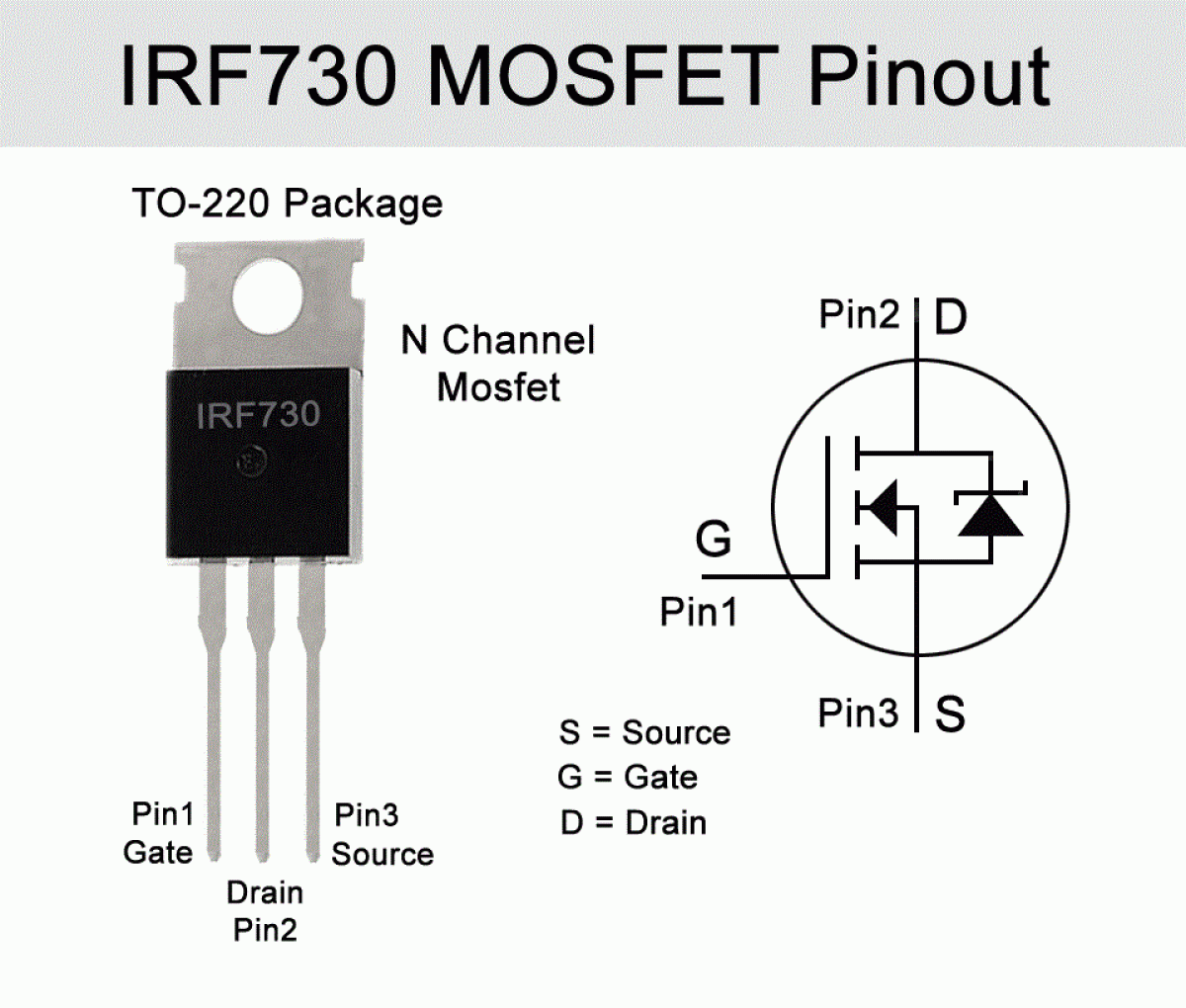 Related Products at majju.pk
majju.pk/…/n-channel-mosfets-general-purpose
Datasheet:-
cdn.datasheetspdf.com/…/IRF730_IntersilCorporation.pdf
Vendor Information
Store Name:

MODERN HALLROAD

Vendor:

MODERN HALLROAD
Address:

No ratings found yet!

IRF730 N-CHANNEL MOSFET, 400V/5.5A