1602a LCD Qapass 1602a LCD Display for Arduino

1602a LCD 16X2 Lcd Display Module for Arduino Blue Color 1602 LCD is 16 character by 2 line display has a very clear and high contrast black text upon a blue background/backlight. It also includes a serial I2C/IIC adaptor board pre-soldered to the back of the LCD. A 1602a LCD 16X2 Lcd Display Module with white text on a vivid blue backlit LCD. This is a 1602a LCD 16X2 Lcd Display Module screen with I2C interface. It is able to display 16×2 characters on 2 lines, white characters on blue background.
1602a LCD Qapass Display is very basic module and is very commonly used in various devices and circuits. 1602a LCD means it can display 16 characters per line and there are 2 such lines. In this LCD each character is displayed in 5×7 pixel matrix. 1602a LCD is named so because; it has 16 Columns and 2 Rows. the most used one is the 16×2 LCD. So, it will have (16×2=32) 32 characters in total and each character will be made of 5×8 Pixel Dots.
An LCD (Liquid Crystal Display) screen is an electronic display module and has a wide range of applications. 1602a LCD is very basic display module and is very commonly used in various devices and circuits. The 16×2 intelligent alphanumeric dot matrix display is capable of displaying 224 different characters and symbols. This LCD has two registers, namely, Command and Data.
The term LCD stands for liquid crystal display. It is one kind of electronic display module used in an extensive range of applications like various circuits & devices.
Liquid crystal displays (LCD) come in two main types that are of interest to hobby and DIY makers; Character LCD displays and pixel / graphic LCD displays. LCD displays come in many sizes most often named by the number of rows and then the length of the display line. For example a 16×1, 16×2, 20×4 LCD display will have one row of sixteen characters and a 4×20 LCD display will have four rows with twenty characters in each.
Specifications:-
Display: 16 characters per row, 2 rows
Pins: VCC GND SDA SCL
Voltage: 5v
Current: 80mA typ. with backlight on
Modes: I2C (Addressible)
Custom characters: up to 8 custom characters easily defined
Backlight: Jumper/software control
1602a LCD Display Features
Operating Voltage of the 16X2 LCD  is 4.7V to 5.3V
Current consumption is 1mA without backlight
This is an Alphanumeric LCD display module, which means you  can display alphabets and numbers
Consists of two rows and each row can print 16 characters.
Each character is built by a 5×8 pixel box
Can work on both 8-bit and 4-bit mode. "we will be using this LCD  in 4-bit mode".
1602a LCD Display
Module Pinout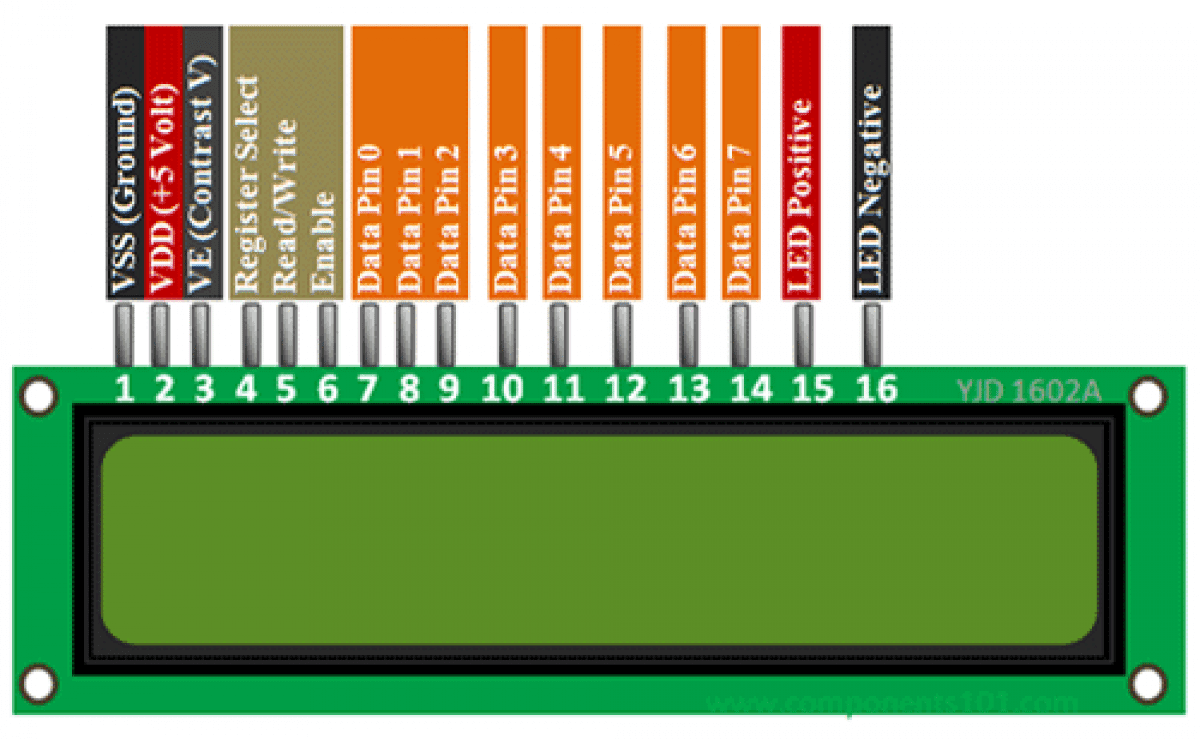 1602a LCD Display
Pin Configuration
Pin No:
Name:
Description
1
Vss (Ground)
Ground pin connected to system ground
2
Vdd (+5 Volt)
Powers the LCD with +5V (4.7V – 5.3V)
3
VE (Contrast V)
Decides the contrast level of display. Grounded to get maximum contrast.
4
Register Select
Connected to Microcontroller to shift between command/data register
5
Read/Write
Used to read or write data. Normally grounded to write data to LCD
6
Enable
Connected to Microcontroller Pin and toggled between 1 and 0 for data acknowledgement
7
Data Pin 0

Data pins 0 to 7 forms a 8-bit data line. They can be connected to Microcontroller to send 8-bit data.

These LCD's can also operate on 4-bit mode in such case Data pin 4,5,6 and 7 will be left free.

8
Data Pin 1
9
Data Pin 2
10
Data Pin 3
11
Data Pin 4
12
Data Pin 5
13
Data Pin 6
14
Data Pin 7
15
LED Positive
Backlight LED pin positive terminal
16
LED Negative
Backlight LED pin negative terminal
Package:- 
1 x 1602a LCD Qapass 1602a LCD Display for Arduino
Related Documents :-
Related Products at majju.pk
Vendor Information
Store Name:

TECH HALLROAD

Vendor:

TECH HALLROAD
Address:

5.00 rating from 2 reviews
You may also like…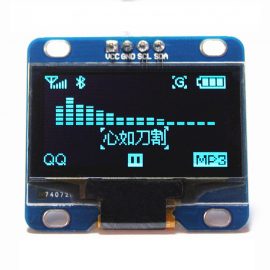 1602a LCD Qapass 1602a LCD Display for Arduino